New Home on the Road at Riverbend Mobile Home Park
Rio Vista, CA
Spence getting internet and TV set up at our new home site.
No grass to mow!!! Wahoo!!!


Mister man of leisure...... Fishing right off the deck area in front of the park !!!


Most rigs here are permanent.... I think there are only two others
that might be able to move but they have been here for years now.
Mostly mobile homes but it is comfortable for us.


I think Spence has found his new home away from the RV. Once he gets his Achilles going, there is going to be no stopping him from fishing constantly...
weather permitting....


Cast away those little anchovies......


Here's Adrienne sitting under the umbrella relaxing and watching the world pass by...... no worries about the park politics....
just relaxation and what a view!!!!


Think he likes the sport.......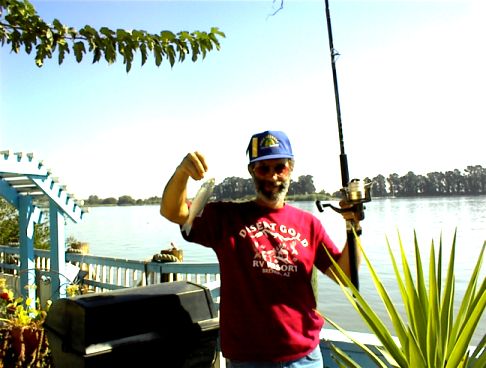 Not quite a keeper....... but constantly getting nibbles....

Rio Vista Bridge
I'm anxious to get a photo of a big ship going under the bridge....